Mini Forklift Ⓥ wrote:
Damn you and your food haha. Looks stunning.

We had an amazingly bright full moon here in New Zealand as well, plus a pretty amazing lightning storm last night !!! Enjoy your weekend and go easy on that heel, sounds a bit nasty MF.
Yeah the heels a little fucked up. By the way it looks today I think it was actually a spider bite. We have high population of brown recluse spiders here. The area I mountain bike in a thriving wilderness spot. It's packed with deer, turkey's and along with those come a high amount of ticks and spiders.
For for a spider bite the presentation was a bit strange, but in my training group we've had among us 4 of 5 of these types of spider bites and each one has presented differently. I assume the amount of venom injected may be partially responsible for that.
I don't think I was subjected to a large amount of venom. I say that because the only stage I didn't go through was the blistering before the skin started to ulcerate. Somebody people move through the stages fast and other move through them more slowly.
These are the stages..
Stages
When you are bitten by this type of spider there are three stages that a person can go through.
Stage 1
As mentioned there is just a stinging sensation but no pain but after approximately six hours the enzymes like Sphingomyelinase D, start to damage the tissues in your body. This starts to trigger immune responses from your immune system to separate the venom. By the time you are in this stage you are starting to feel intense pain along with itching. You may also experience:
Inflammation
In some cases, the formulation of pustules
Blistering
Stage 2
At this stage the spider bite progresses to involve the destruction of your red blood cells, causing the supply of oxygen to your skin where the bite occurred to stop. When your skin is denied the oxygen it needs your skin begins to turn gray and in the middle of this area of grey skin there is a small red-colored spot. This spot is caused by the bite of the spider and around that skin area there may be a halo that is light red in color.
Stage 3
At this stage, if the venom has reached your bloodstream through the capillaries, it could start to affect your whole body. This condition is called systemic loxoscelism. You can identify this stage by the gray skin of stage 2 along with these other symptoms.
Fever
Chills
Nausea
Dizziness
You may also have a rash with small dots that are red-colored on areas of your body that did not have a bite. This condition is referred to as morbilliform rash. When your body has this condition it signals that the venom the brown recluse spider injected into your body with a bite is not circulating in your whole bloodstream. If it has entered your blood stream it can lead to kidney failure, seizures, and even a coma so it is imperative that at this stage you seek immediate treatment.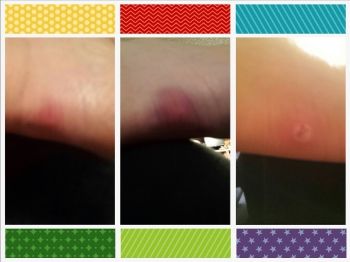 I had this stinging & burning sensation the first day, but there really wasn't anything to it. It just looked like a bug bite ir maybe I picked up a sticker. Then I got the next morning and it looked liked a huge bruise only it burned instead of feeling like a bruise. Then the next day or maybe 2 days later it turned to a bulls eye like mark. Which actually I though it was going away so I didn't take a pic of that stage. Then the redness started fading but it still stung. Then last night I woke in intense pain. Like strong muscle cramps, nauseated and these odd stabbing like pains. Starting late last night and this morning the skin completely began to dissolve, ulcerate.
No worries though I'm doing better this morning, I went and showed the doc and took my notes and he gave me antibiotics and creams to help.
This is what looks now.. and despite how it looks it's hurting less.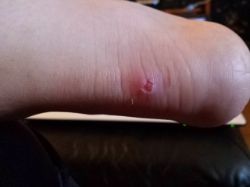 It hurts to remove and was the dying tissue but it's a good idea to keep that washed away. I've been bitten by one before so I know the drill.
______________________________________________________________________________________________________________
And I'm sharing all of this because if you mountain bike, hike or run in an area that has ticks, venomous spider of other bugs. It is important to get notes, pics and time lines on anything some bites, or anything you are uncertain about. This info can help doctors at a later date. It can also help you learn what to do in the future when it happens again.
For tick bites it's a good idea if you can to actually save the tick for a while. This is simple, remove the tick by gripping (not with your hands if you can avoid this) close to the skin as possible, you want to grasp his head not his body and pull it away from you without twisting. Then drop the tick in a plastic bag with like a damp cotton ball or something like that.
Most ticks don't carry diseases but the ones that do can be nasty. Saving the tick means the tick can be tested if you start to have any symptoms.
On long hikes, or rides when I don't have tweezers available I use a piece of dental floss looped around the ticks head to pull them off. Anything to avoid to squeezing them.