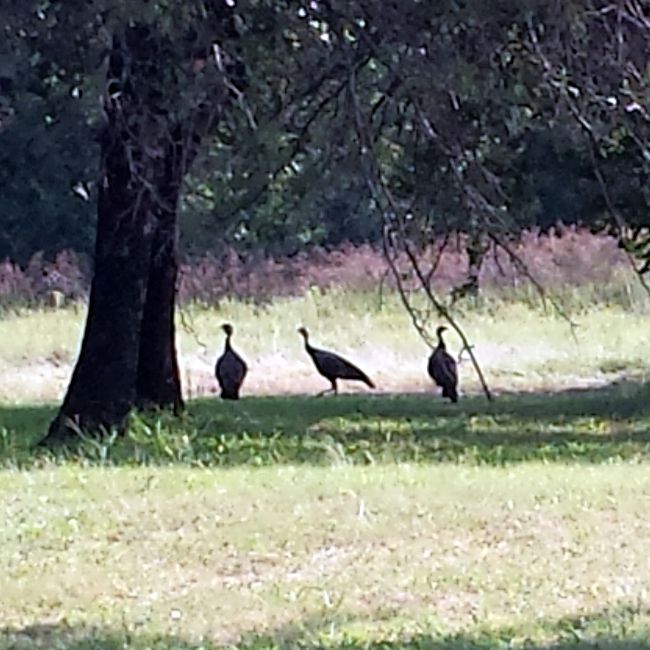 The Trailhead was full of turkey's today!
*Woke up this morning feeling a bit ill. My stomach was queezy. I was tired, achy and had a slight headache. Flu's been going around here. I'm really hoping I don't have the start of it or am trying to fight it off.
Running - Endurance base
DISTANCE 10.00 mi
DURATION 2h:08m:32s
AVG. SPEED 11:01 min/mi
MAX. SPEED 8:25 min/mi
CALORIES 1086 kcal
HYDRATION 2.15L
AVG. HEART RATE 138
MAX. HEART RATE 158
Heart rate zone Duration
1.WARM UP (114 – 126) 1m:38s
2Recovery/easy (127 – 139) 1h:19m:58s
3.AEROBIC (140 – 151) 42m:35s
4.ANAEROBIC (152 – 164) 7m:57s
5.MAXIMUM (165 – 178) 0m:00s
WEATHER Clear morning
WIND 3.1 mph ↖
TEMPERATURE 73°F
HUMIDITY 68%
*I know I under hydrated on this run. I also would have liked to have seen higher heart rates.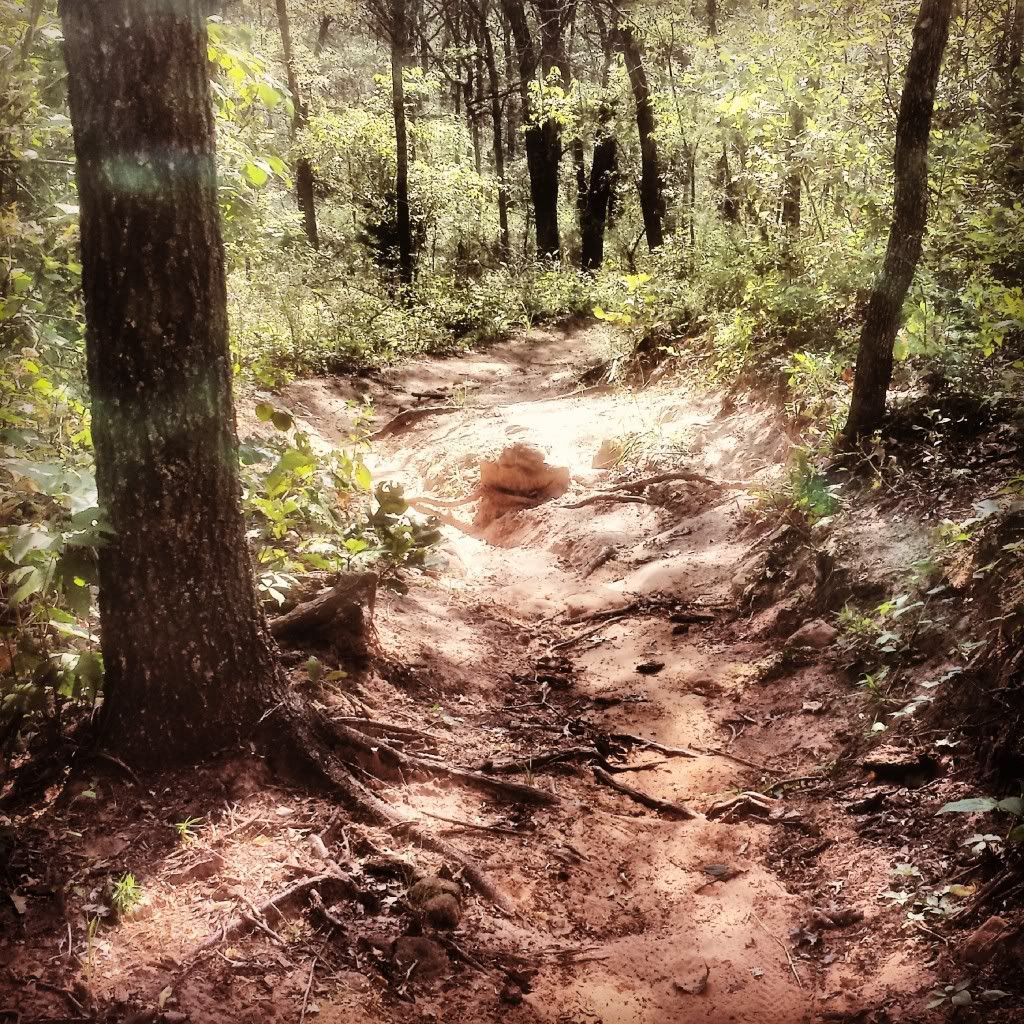 Trail Riding / Mountain biking
DURATION 1h:45m:05s
CALORIES 1023 kcal
HYDRATION 3.53L
AVG. HEART RATE 150
MAX. HEART RATE 178
WEATHER Sunny
WIND 4.3 mph ↑
TEMPERATURE 86°F
HUMIDITY 58%
*I was feeling a little better by this time. I think my endurance was good on this ride. I felt like my technical skills were a little sloppy today though. At one point I took a jump, followed by a tight corner and hit a sand pit that I lost control in. My bike just slid out from under me. So more bruises.. not the old ones haven't even healed yet.
And my riding partner screams like a girl(? this maybe bad wording seeing as how I'm a girl and I don't scream like that!) .. when he sees spiders, which can be a little distracting sometimes.. so maybe he's the real reason I lost control!
The trails were a mixed bag of terrain today. Some sections were heavily over grown, others open but a lot sandy loose rocks. It was the sand that was my undoing today. I cussed sand pits like they were the devil in disguise. Overall I think it was a good ride, but I felt like I rode a little sloppy today.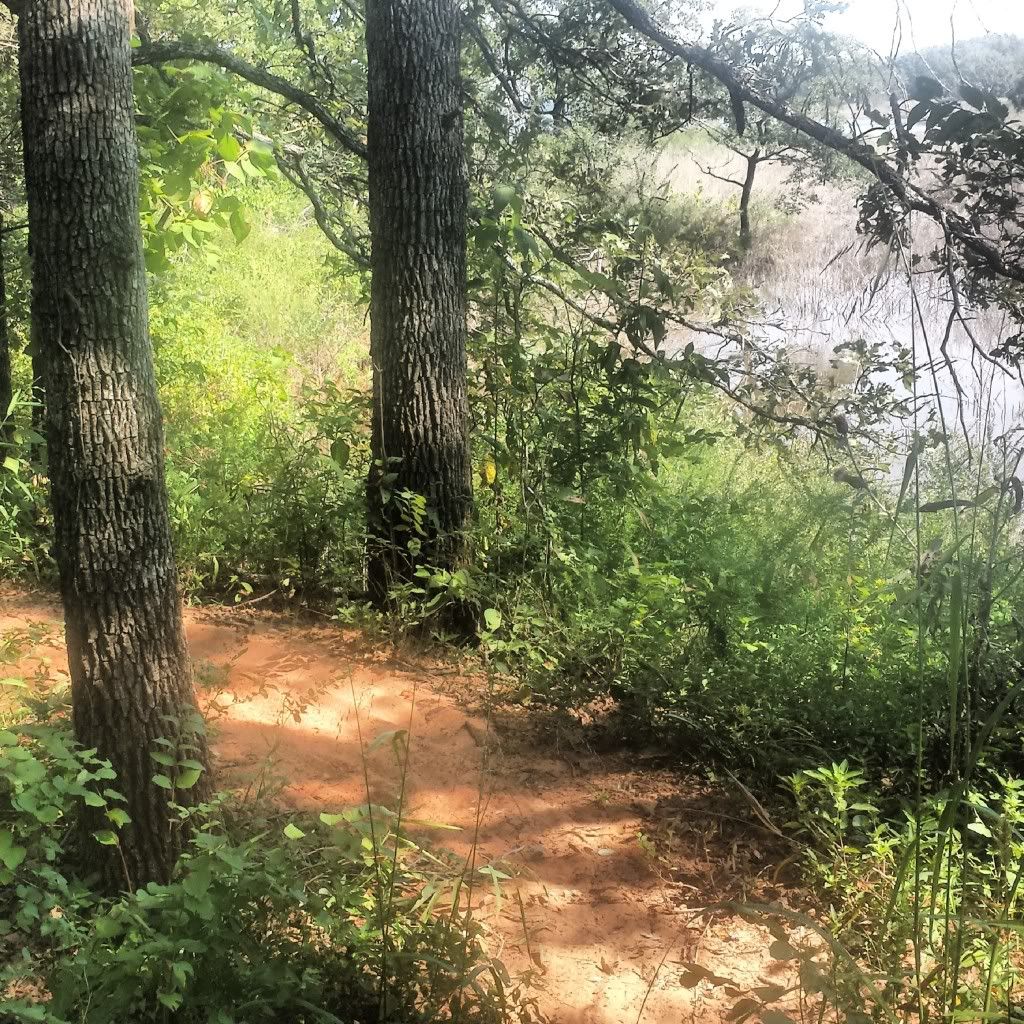 Hydration Today: Prerun 8 0z ~ in run 8 oz ~ post run / precycle 16 oz ~ in cycle 10 oz ~ post cycle 6 oz
Stats: Resting Heart rate 54 (a little high) Blood Pressure 120/80 (not really my norm)
Blood Sugars: Fasted prerun 91 fasted post run 120 Post cycle (1 hour post but before post ride meal) 90
Sleep: 6.19 hours @ 90% efficiency
Calories Burned 3,690 (for the 24 day) Calories Consumed 1,437 Calorie Deficit 2,253
*Nutrition notes: I ran fasted, not a good idea, I also under ate, not a good idea either as it will effect my recovery. All for the same reason. I wasn't feeling well, my stomach was bothering me and I just found it hard to eat today.
My carrot cake bars... makes 8 bars or 12 muffins. I make these in like a square muffin pan. For 8 they will come out to about 100 calories 20 carbs 2 grams of fat & 2 grams of protein.
2 Tbsp Ener-G Egg Replacer (my egg replacer is not gluten free, but you can find a gluten free egg replacer then this recipe would be gluten free.)
½ cup warm water
2 ripe bananas, peeled and mashed
1/2 cup splenda
2 Tbsp no sugar added flax milk
1 Tbsp pure vanilla extract
½ cup coconut flour
1 8oz pkg of mircle rice (rinsed and blanched in hot water, then set aside to drain.)
¼ cup Spectrum - Decadent Blend Chia and Flax Seed With Coconut and Cocoa
½ tsp gluten-free baking soda
1 tbsp pumpkin pie spice
¼ tsp sea salt
1 cup shredded zucchini
1 cup shredded carrots
¼ cup reduced sugar craisins
Preheat oven to 350 and don't forget to spray the pan with oil. These will bake for about 35 to 40 minutes. I then go ahead and rinse & drop my miracle rice into boiling water for 1 minutes, then set aside on some paper towels to drain off water.
Mix egg replacer and warm water together thoroughly (until it starts to get kind of foamy). Combine "egg" mixture, mashed bananas, splenda, flax milk and vanilla extract in a large bowl with a hand mixer. I then simply mix in everything else. Mix it all really good and drop it into the baking cups.
I will be honest with you and say I never really know when these are done. I just sort of leave them in the oven till they aren't so smushy on top. For 8 bar pan about 40 minutes max. Less for muffin pans. I haven't died yet and they taste good. For some reason they always taste better the second day.
And yes the miracle rice looks a little funny baked into them at first but it's ok.
Breakfast post run ~ tofu scramble w/ spinach, onions, peppers & guacamole w/ a carrot cake bar and herbal coffee w/ soy creamer.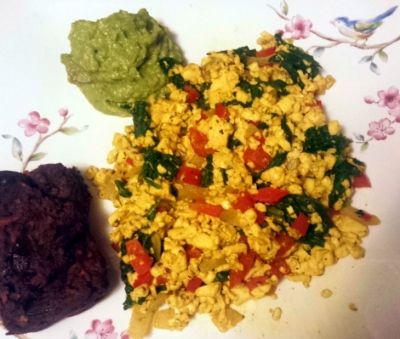 Very easy to make. I just threw some diced onion, red peppers and crumbled up some firm tofu into my wok with a little cumin, curry, turmeric and garlic and pepper. Stir fried it about 3 to 5 minutes till most of the water was cooked out. Then tossed in fresh spinach at the end.
Lunch post cycling ~ Gluten free, vegan indian burrito w/ avocado & vegan sour cream.
Dinner ~ I had vegan nachos .. and I skipped the beer.
Snacks ~ I had three small nutrition cookies.
In ride snacks ~ I carried caramel toasted popcorn which is gluten free, all natural and vegan.
Totals : Calories 1438 Fat: 58 Carbs: 190 Protein: 45
AWWW.. don't run! I promise we want eat you!!!